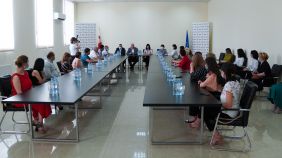 After the opening of the House of Justice in the city of Gardabani, the State Minister for Reconciliation and Civic Equality, Tea Akhvlediani, met with representatives of the civil society of Gardabani Municipality. She spoke about the progress made in the direction of civic integration and the challenges that still exist, highlighted the programs and measures that have brought tangible results and outlined the priorities of the new strategy for civic equality and integration.
The meeting was held in an interactive mode. Representatives of various fields shared their views and assessments with the State Minister on current issues. State Representative in Kvemo Kartli Shota Rekhviashvili and Gardabani Mayor Ramaz Budaghashvili took part in the meeting.
"In just a few days, the Government of Georgia will approve the State Strategy for Civic Equality and Integration, the main goal of which is to strengthen an equal and democratic society, each member of which, regardless of ethnicity, will enjoy equal opportunities for development and involvement in all spheres of public life.
In order to discuss these integration processes, I am in Gardabani today, where the House of Justice was also opened and I met with the local population to hear their views, approaches, assessments, needs on how to achieve our goals. Direct communication with the population is very important for the Office of the State Minister, and we will certainly continue such meetings in regions populated by ethnic minorities", - said Tea Akhvlediani.