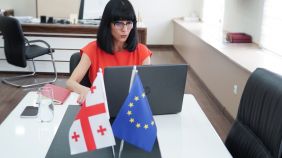 Tea Akhvlediani, the State Minister of Georgia for Reconciliation and Civic Equality, held a meeting with Rachel Clogg, a representative of the British organization "Conciliation Resources".
Tea Akhvlediani spoke about the implementation of the Georgian Government's policy of reconciliation and engagement, including the implementation of the peace initiative "A Step for a Better Future". She briefed Rachel Clogg on the agency's future vision, which also includes newly launched initiatives to review the State Strategy for Engagement and Strategic Action Plan and to strengthen cooperation with civil society representatives through platforms created specifically for this purpose.
Rachel Clogg informed the State Minister about the activities carried out by the British organization "Conciliation Resources", current projects and future activities aimed at conciliation and deepening relations between the Georgian-Abkhazian communities.
The parties agreed on future close cooperation.