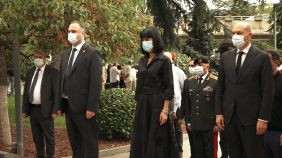 On the occasion of the 29th anniversary of the beginning of hostilities in Abkhazia, the State Minister of Georgia for Reconciliation and Civic Equality, Tea Akhvlediani, laid a wreath at the memorial to the heroes who died in the struggle for the unity of Georgia. Along with the State Minister, Deputy Minister of Defense Grigol Giorgadze and Chairman of the Government of the Autonomous Republic of Abkhazia Ruslan Abashidze paid tribute to the memory of those killed in the fight for the territorial integrity of Georgia.
According to Tea Akhvlediani, August 14 is a common tragedy for each of us and that is why there is no alternative to peace.
"August 14 is the hardest day for each of us, for Georgia as a whole, for hundreds of thousands of refugees and internally displaced persons, but especially for those who have lost family members and loved ones in the fight for the unity of Georgia. We have lost heroes whose memory I want to honor. This is a common pain, a common tragedy of Abkhazians and Georgians, which we must overcome through the force of peace, reconciliation, restoration of trust, so that such a tragedy will never happen again", - said Tea Akhvlediani.