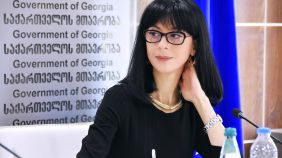 "May 26 symbolizes the centuries-old history of the struggle for national values, unity and independence of our country, as well as European aspirations and ties.
It reminds us that respect for democratic principles and human rights, as well as equality, tolerance - is a historic choice of the Georgian people. Today we bow to all those people, to their spiritual fortitude and courage, who fought and sacrificed themselves for the national idea of ​​a free, united, strong, European Georgia. Our path to Europe, I believe, is irreversible and surely successful. It will be fulfilled with our unity and even greater efforts.
This is the main message today, with which, at the initiative of the Government of Georgia, is celebrating our national holiday, to which I cordially congratulate the whole of Georgia".