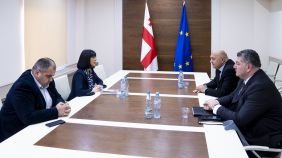 Minister of State for Reconciliation and Civil Equality Tea Akhvlediani met with the newly appointed Head of the temporary administration of the former South Ossetia Autonomous District Tamaz Bestaev and congratulated him on his appointment to a responsible position.
The parties they discussed difficult humanitarian and human rights situation in the occupied Tskhinvali region, expressed readiness to continue close cooperation in the future.
For the past 15 years, Tamaz Bestaev was working as the Head of the Health Care and Social Security Service of the South Ossetian Administration.
"At today's meeting with the newly appointed head of the South Ossetian administration, Tamaz Bestaev, we discussed the important dimensions of our further cooperation and current issues. We will make maximum efforts for the benefit of our fellow citizens remaining behind the occupation line and for the improvement of their socio-economic condition.
We are linked with Tamaz Bestaev by the joint activity in providing healthcare services to the population living in the Tskhinvali region - during the period, when Dimitri Sanakoev was the Head of administration, Mr. Tamaz worked in this direction for 15 years. I would like to once again congratulate him on his appointment to a new position and wish him success in his future work", - said the State Minister.