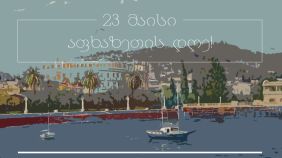 "We congratulate all of Georgia, and above all, our Abkhazian compatriots, on "Abkhazetoba" [Day of Abkhazia], which was founded in 2014 on the initiative and blessing of the Catholicos-Patriarch Ilia II.
It is symbolic that May 23 is the day of memory of the Apostle Simon of Canaan, who preached Christianity in Abkhazia. Along with a common culture and traditions, Georgians and Abkhazians are united by a history of peaceful and friendly coexistence based on common values.
Within the framework of Georgia's peace policy, the experience of this unity is based on a people-oriented state policy of reconciliation and inclusion, which aims to create conditions for the restoration of relations based on mutual understanding and respect between people temporarily separated by artificial barriers, ensuring trust and sustainable peacebuilding.
We deeply believe that reconciliation, peace and development is an alternative way to achieve shared prosperity and a better future in a strong European nation", - State Minister for Reconciliation and Civic Equality Tea Akhvlediani.