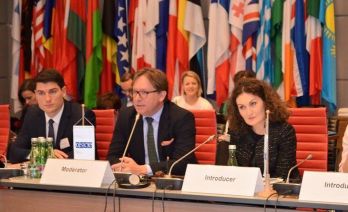 First Deputy State Minister for Reconciliation and Civic Equality delivered a speech at the "Supplementary Human Dimension Meeting" in Vienna. Mrs. Ketevan Tsikhelashvili was an introducer of the session, which focused on Ljubljana Guidelines, anti-discrimination and diverse societies. In her speech, Mrs. Tsikhelashvili highlighted Georgia's European aspirations and European integration process, noting that Georgia is multi-ethnic and multi-confessional country.
One of the main topics in the report of First Deputy State Minister was the issue of conflicts and occupied territories. Mrs. Tsikhelashvili has emphasized that confidence building is a path for conflict settlement and the support of European partners in this process is immensely important. Addressing the conference audience, Mrs. Tsikhelashvili provided information on current situation in occupied territories and dividing lines, with a special focus on problems that emerged for the local population due to the installation of barbed wire fences and artificial barriers.
Mrs. Ketevan Tsikhelashvili discussed Georgia's progress with regard to civic integration and state policy in support of this dimension.
The First Deputy State Minister was also one of the key speakers at the seminar, focusing on gender aspects of integration. She spoke about activities that are implemented in Georgia for gender empowerment.
In frames of the visit, Mrs. Ketevan Tsikhelashvili met with the Head of Department for Eastern Europe, Western Balkans, South Caucasus, Central Asia and the Central European Initiative at the Federal Ministry for the Republic of Austria Dr. Heidemarie Gürer. The First Deputy State Minister provided information on the last round of Geneva International Discussions and humanitarian consequences of barriers that are erected near the dividing lines. In her part, Dr. Gürer declared that all projects that carried out by the Council of Europe will continue in Georgia. Mrs. Ketevan Tsikhelashvili extended thanks to Dr. Heidemarie Gürer for her cooperation and stressed the importance of support from European partners.
"Supplementary Human Dimension" conference takes place annually, under the arrangement of OSCE Office for Democratic Institutions and Human Rights (ODIHR). More than 100 delegates from 49 countries, representatives of OSCE institutional agencies, international organizations and NGOs of member states take part into the meetings.