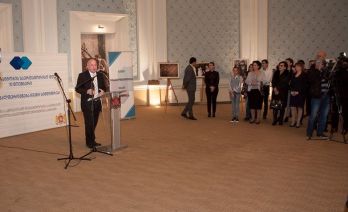 Office of the State Minister for Reconciliation and Civic Equality hosted an official reception, dedicated to the International Day for Tolerance. State Minister Mr. Paata Zakareishvili opened the reception.
In his speech, the State Minister spoke about terrorist attacks in France and discussed the importance of tolerance, ethnic and religious diversity.
"Recent attacks in France are greatest tragedy and challenge to civilized world. Today we celebrate the International Day for Tolerance, while terrorist attacks struggle precisely against such differences and freedom. This is yet another indication how diversity is important worldwide. We maintain unique ethnic and religious diversity in Georgia and we appreciate their valuable role ever more strongly against the backdrop of terror," – Mr. Paata Zakareishvili declared.
The importance of tolerance was also stressed by Mr. Zaza Vashakmadze, the Head of State Agency for Religious Issues. On behalf of his office, Mr. Vashakmadze announced Mr. Zakareishvili as the "Tolerant Politician of the Year" and granted him a certificate. Mr. Koba Chopliani, Coordinator of the Council on National Minorities under the Public Defender's Office delivered a speech as well.
Short vide screening, dedicated to the International Day for Tolerance was also available, under the arrangement of the State Minister's Office and with the support of the European Union.
13 best photos of the photo competition "Diversity of Our Country" were exhibited as well. Members of the Jury rewarded the authors. The State Minister awarded three winners - the one with the most "Likes" on Facebook and the other two defined by the competent jury.
Representatives of Diplomatic Corps and NGOs attended the official reception. By reception, the week dedicated to the International Day for Tolerance has drawn to conclusion. The week started on November 9, with State Minister's meeting with ethnic minority students. Lectures and meetings with youngsters in Telavi and Dmanisi, also multi-ethnic art festival "Under One Sky" took place in frames of the week.