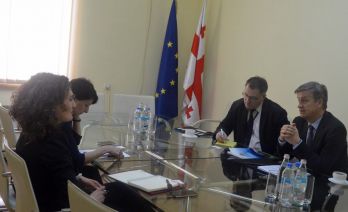 The First Deputy State Minister for Reconciliation and Civic Equality has met with the Deputy Head of European Union Monitoring Mission in Georgia Mr. Erik Hoeeg and the Head of Analytical Reporting and Outreach Department Mr. Kaupo Känd.
The First Deputy State Minister delivered information on current situation near the dividing line; also with respect to the conditions that emerged after the installation of barbed wire fences that affected local population. Conversation also dealt with socio-economic projects that are implemented by the Government of Georgia in villages that are located near the dividing line.
Representatives of the EUMM emphasized that they will study these conditions and related changes thoroughly and will monitor recent developments in order to provide a detailed overview of the situation to the international community.