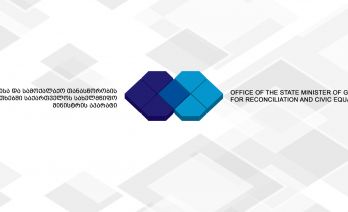 The State Minister of Georgia for Reconciliation and Civic Equality Mrs. Ketevan Tsikhelashvili took part into the opening ceremony of newly-refurbished kindergarten in Village Akhalubani, Gori district. The new building was launched by Mr. Davit Oniashvili, the Head of Gori Municipality and the State Minister.
Mrs. Ketevan Tsikhelashvili expressed her good wishes before the pupils and mentors, highlighting the importance of support to villages in the vicinity of dividing line.
"Congratulations on this wonderful day! From now on these children will have a pleasant and comfortable environment. Support to education and future generations through such projects is immensely important. The Government does its best to deliver quick and effective feedback to address the needs of villages close to dividing line. The Temporary Governmental Commission has tackled many important problems – 58 villages are now gasified, 20 villages have access to ambulatories; the problem of potable and irrigation water is mostly handled, whereas GEL 200 vouchers (for firewood) were delivered to local residents all through the last two years; school infrastructure is improved and the issue of transportation is solved for the pupils; the state offers full funding for all students in these villages; in addition, special agro-vouchers were issued for the population. All of these measures are indeed important for local households and we shall maintain these works in future," – Mrs. Ketevan Tsikhelashvili declared.
Mr. Davit Oniashvili congratulated the trainees and tutors on the opening ceremony as well. The renovated kindergarten will serve for the beneficiaries from 4 villages, including Akhalubani, Jariasheni, Adzvi and Mumlaantkari. Local municipality has managed the rehabilitation process.