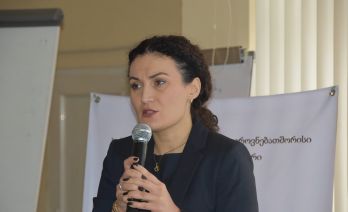 The State Minister of Georgia for Reconciliation and Civic Equality Mrs. Ketevan Tsikhelashvili took part in the meeting in "TSU Youth Center" meeting. The Participants summed up the results of one year work.
The students, who are involved in the "4 + 1" program also took part in this meeting. Ketevan Tsikhelashvili congratulated them with the participation in this program and talked about the areas of work of the Office of the State Minister and priorities of civic integration policy.
"Our country is very diverse and multicultural and our task is to turn this diversity into the source of our wealth and development. The Old Tbilisi district is the best example of how people of different ethnic and religious backgrounds can live together. In this regard we really have the best traditions and the Government still takes measures to civic integration. But, of course, serious challenges still remain", - said the State Minister.
Ketevan Tsikhelashvili informed the participants about the State strategy for civic equality and integration and Action plan for 2015-2020 the years and talked about the importance of the study and knowledge of state language.
The meeting was held within the framework of the "Tolerance, civic consciousness and integration support program" (PITA), which is implemented by financial support of the United Nations Association of Georgia (UNAG) and USAID. The partners of this program are "The center of Civic Integration and Inter-Ethnic Relations" and Tbilisi State University.