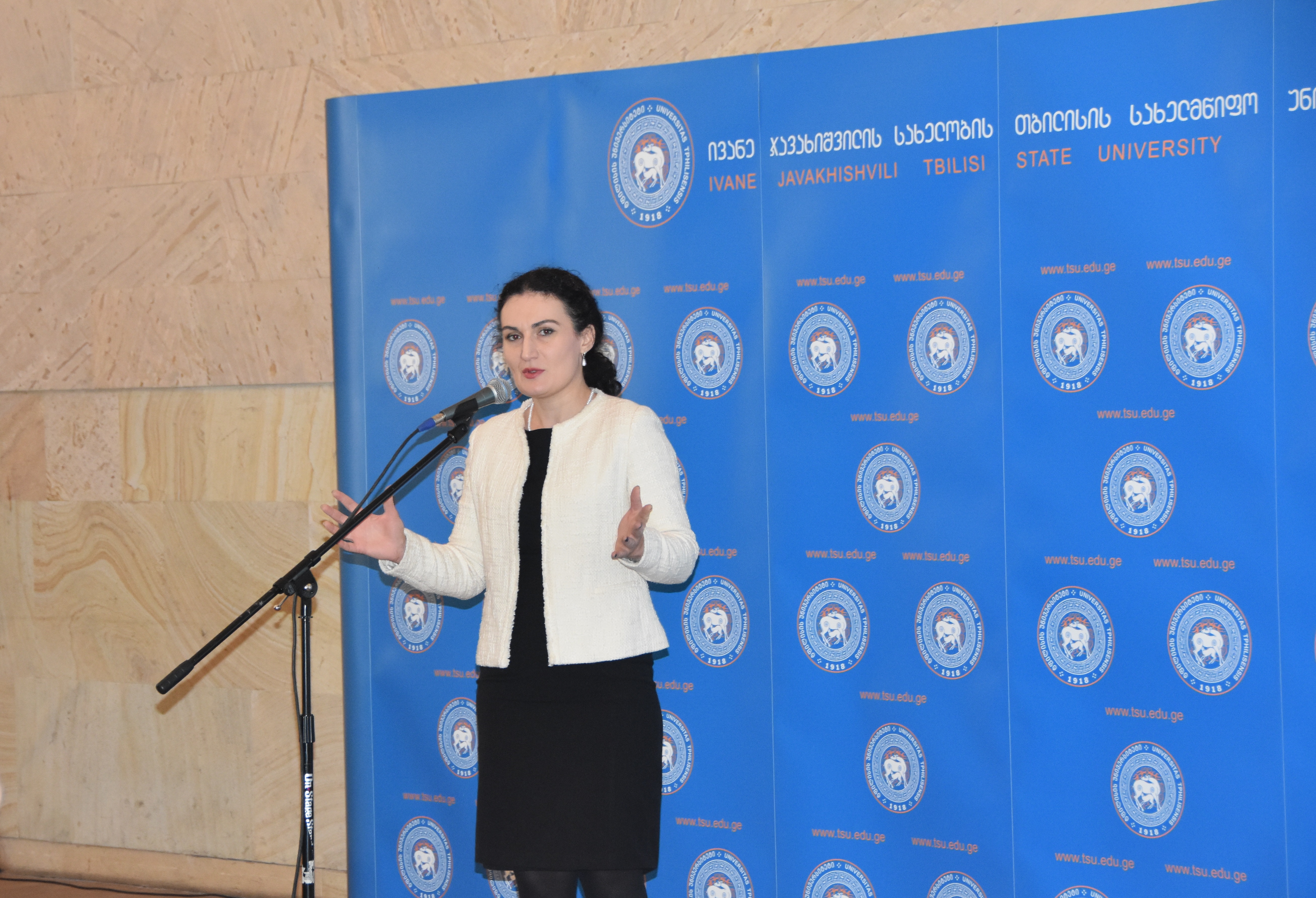 The State Minister for Reconciliation and Civic Equality Mrs. Ketevan Tsikhelashvili participated in the closing ceremony of the program "Lets Learn Georgian". The ceremony was held in the Tbilisi State University. Successful trainees and teachers of the project received special certificates to participating in the project. Besides, the film and the photo-video footage of the training process was presented.
Ketevan Tsikhelashvili focused attention on the knowledge of state language and creation of learning opportunities.
"The priority for the state is to create the appropriate opportunities to all our citizens, who still not speak Georgian language. We should create such opportunities everywhere – on the pre-school level, in the school, universities etc. The program also serves to the ethnic minorities of Georgian regions in order to create for them the opportunity to learn Georgian language. This project has been carried out in many regions and we see in locals the highest activity and the desire to study", - said the Minister.
Ketevan Tsikhelashvili also noted that the knowledge of state language is the precondition for full integration in all spheres of life.
"Therefore, our duty is to create these opportunities and this project really helps to achieve this task. Congratulations to all - the organizers and beneficiaries. And our Government will continue to encourage the efforts towards the study of the state language", - said Tsikhelashvili.
The Head of Ivane Javakhishvili Tbilisi State University's Administration Nunu Ovsianikova, Dean of the Faculty of Humanities Nana Gaprindashvili, the Head of Georgian President's Administration Giorgi Abashishvili and presidential adviser on ethnic minorities Sopio Shamanidi also took part in the ceremony.
Ivane Javakhishvili Tbilisi State University started the pilot project "Lets learn Georgian", which is funded by the President's Reserve Fund, in 2015. According to the program, the population of regions, which are compactly populated by the ethnic minorities, can learn Georgian language by the accelerated method. This project was implemented in three regions (Kvemo Kartli, Kakheti and Samtskhe-Javakheti), 9 municipalities (Marneuli, Gardabani, Bolnisi, Dmanisi, Tsalka, Akhalkalaki, Akhaltsikhe, Sagarejo, Lagodekhi), 60 villages and had more than 2500 listeners.