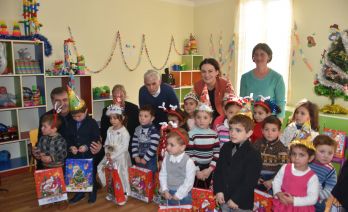 State Minister of Georgia for Reconciliation and Civic Equality Mrs. Ketevan Tsikhelashvili took part into the opening of renovated kindergarten in village Abano.
State Minister visited a kindergarten along with the Minister of Internally Displaced Persons from Occupied Territories, Accommodation and Refugees of Georgia Mr. Sozar Subari, the Head of UNHCR to Georgia Ms. Simone Wolken and the Head of UNDP Georgia Program Manager Mr. Shombi Sharp.
Mrs. Ketevan Tsikhelashvili congratulated apprentices and teachers on the opening of kindergarten and upcoming New Year.
"We prioritize to care for the people across the dividing lines. I express my gratitude to UNHCR Georgia, who delivered its feedback to the work of Temporary Governmental Commission from the very beginning and prioritized to extend assistance to socially vulnerable families. This time, our partners contributed to comfortable and pleasant environment for kids, especially those who live in the vicinity of dividing line and kids from IDP families. I wish them peace, happy and relaxed New Year," – Mrs. Ketevan Tsikhelashvili declared.
Apprentices of the kindergarten arranged a New Year performance. A renovated kindergarten of the village Abano serves for 24 children from the villages of Abano, Satsikhuri and Koda that are located close to dividing line. United Nations Development Program (UNDP) and United Nations High Commissioner for Refugees (UNHCR) delivered financial support to rehabilitation and equipment of the kindergarten.