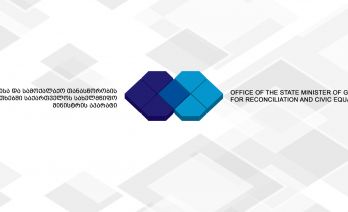 The statement of the Office of the State Minister about the announcement, which was made by Abkhazian participants on May, 31, during the IPRM meeting in Gali:
"The decision of Sokhumi authorities to drop charges against Rashid Kanji-Ogli, Abkhaz serviceman, who was sentenced in absentia over the murder of Giga Otkhozoria, is unequivocally unacceptable to the Office of the State Minister of Georgia for Reconciliation and Civic Equality. Since the day this horrible crime was committed and in order to bring the artificially aggravated case to the end, the relevant structures of Georgia transmitted to the de-facto authorities all and sufficient material in order to detain the offender.
The perpetrator - Rashid Kanji-Ogli - needs to be punished for the action committed and this is our priority. We talked about this at the Geneva International Discussions, Incident Prevention and Response Mechanism, as well as other international meetings. International partners and co-chairs of the above negotiations fully share the categorical position of the Georgian government.
The government of Georgia will not accept the situation created and by the use of all international instruments, including the Geneva International Discussions and IPRM format, will continue active work so that the offender - Rashid Kanji-Ogli - bear a well-deserved punishment.