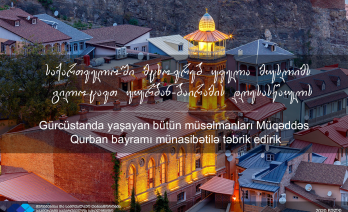 The Acting State Minister of Georgia for Reconciliation and Civic Equality Lia Gigauri congratulates the Muslim citizens of Georgia on the Great Feast of Eid al-Adha.
"I would like to sincerely congratulate each of you on this wonderful day and wish you peace, welfare and prosperity in your families and in the country as a whole. May this day be a precursor to success and advancement. There are many beautiful and remarkable traditions and celebrations in Islam, and it is truly a proud thing that in Georgia many people of different faiths live peacefully together. This is our centuries-old tradition that needs care. The Government of Georgia is doing – and will do in the future - everything in order to ensure this.
There is a difficult situation created by the spread of COVID-19 in the country. The Georgian state is doing everything to prevent the disease and ensure the life and health of the population. Our task is to bring the country back on the path of irreversible development as soon as possible. In this process, we have high hopes for the involvement and cooperation, patience and wisdom of each of our citizens", - said Lia Gigauri.
Kurban Bayram, or so called "Sacrifice Feast" lasts for three days and is marked on 70th day after Ramazan Bayrami.