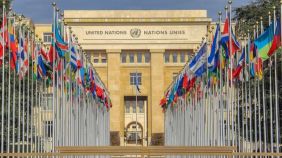 On 10-11 December 2020, the 51st round of the Geneva International Discussions was held. The main topics of the negotiations were the aggravated security and humanitarian situation amid the COVID-19 pandemic, intensified de-facto annexation process by Russia and immediate release of illegally detained Georgian citizens.
The Georgian participants spoke extensively about Russia's intensified provocations amid the Coronavirus pandemic, illegal militarization and regular military exercises in the Abkhazia and Tskhinvali regions, continuation of creeping occupation in the adjacent area of the Chorchana village, as well as erection of barbed wire fences and artificial barriers across the occupation line, which was assessed as an attempt towards destabilizing the situation on the ground.
The Georgian delegation raised the issue of illegal detentions and kidnappings of local residents by the Russian occupation forces, and demanded immediate release of Irakli Bebua, Zaza Gakheladze, Genadi Bestaev and other Georgian citizens who remain in illegal captivity.
A significant part of the negotiations focused on continuous ethnic discrimination against Georgians remained in the occupied territories, as well as the dire humanitarian situation of residents of Gali and Akhalgori districts, and Kodori Gorge. The critical need to protect their fundamental rights and freedoms was stressed.
The Georgian delegation underscored the intensified attempts to isolate the Abkhazia and Tskhinvali regions from the rest of Georgia and assessed the process of targeted Russification of local population as a dangerous trend. In this context, the need to ensure education in native language for ethnic Georgians living in the occupied territories was reiterated.
The Georgian delegation once again raised the need for execution of justice for the murders of Davit Basharuli, Giga Otkhozoria and Archil Tatunashvili, as well as the issue of death of Irakli Kvaratskhelia at the Russian military base illegally located in the Abkhazia region.
Traditionally, one of the main issues on the agenda was the safe and dignified return of Internally Displaced Persons and refugees forcibly expelled from the Abkhazia and Tskhinvali regions as a result of ethnic cleansing. The representatives of the EU, UN, OSCE, the US and Georgia stressed the need for meaningful discussion of the issue of return of IDPs. However, the representatives of the Russian Federation and its occupation regimes once again tried to politicize this humanitarian issue and walked out of the negotiations.
The next round of Geneva International Discussions will be held on 23-24 March 2021.