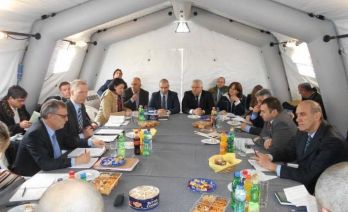 The next 60th meeting was arranged in village Ergneti, in frames of the Incident Prevention and Reaction Mechanism. The sides discussed incidents that occurred since previous meeting.
The Georgian side raised the issue of three citizens who were abducted on the territory controlled by Georgian authorities and condemned the incident. Representatives of the Georgian side also paid a particular attention to the access to local churches during celebrations and protested the arrest of Georgian citizens at St. George's Church in village Adzvi on November 23.
The IPRM agenda also included the violation of the Georgian-controlled airspace by the Russian military aircraft on November 19.
The problems that emerged for the local population due to the installation of barbed wire fences were discussed as well. The agenda also included the medical expertise of the body of Akhalgori resident Davit Basharuli.
The next meeting is planned for 16 December in Ergneti.
At IPRM meetings the Georgian side is represented by the Office of the State Minister for Reconciliation and Civic Equality and the Ministry of Internal Affairs.