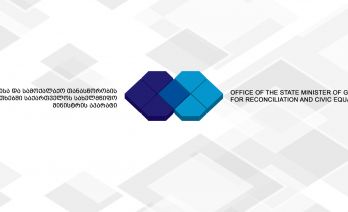 Training participants of the youth programme "Erasmus+" of the European Commission have visited the Office of the State Minister of Georgia for Reconciliation and Civic Equality.
Mrs. Marina Salukvadze, Head of Unit of Autonomous Republic of Abkhazia, Former Autonomous District of South Ossetia, has hosted the representatives of 30 international and non-governmental organizations from 10 countries (Norway, Sweden, Czech Republic, Ukraine, Moldova, Estonia, Belarus, Georgia, Greece and Russia). She provided information on the areas of work of State Minister's Office.
Situation in South Ossetia and Abkhazia was briefly reviewed at the meeting, as well as the policy of Georgian Government with regard to occupied regions, Geneva International Discussions, IPRM meetings, Law on Occupied Territories, Georgia's aspirations for the integration into NATO and EU and peace initiatives of Georgia.
International training on the issue of conflicts runs in Tbilisi from 1st to 8th December. The project is implemented with the financial support of Norwegian National Agency and under the arrangement of the Youth Association "Droni."