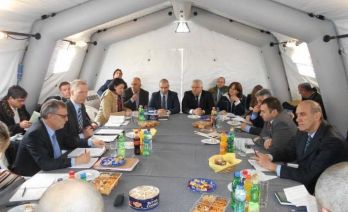 The next 61st meeting took place in frames of the Incident Prevention and Reaction Mechanism in village Ergneti.
On December 10, the Georgian side raised the issue related with the violation of the airspace controlled by the central Government of Georgia, which was committed by the Russian military aircraft; the Georgian side also provided photo-video material in support of the evidence.
Participants also discussed the incidents that occurred since previous meeting. In relation to the cases of arrests across the dividing line, it was noted that the number of such cases tends to decrease.
The meeting also dealt with the need to renew the trilateral format for tackling the issue of the missing persons. The problems that emerged for the local population due to the installation of barbed wire fences were featured within the agenda as well; along with the issue of medical expertise of the body of Akhalgori resident Davit Basharuli.
The upcoming 62nd IPRM meeting is scheduled for January 20, 2016. At IPRM meetings the Georgian side is represented by the Office of the State Minister for Reconciliation and Civic Equality and the State Security Service.