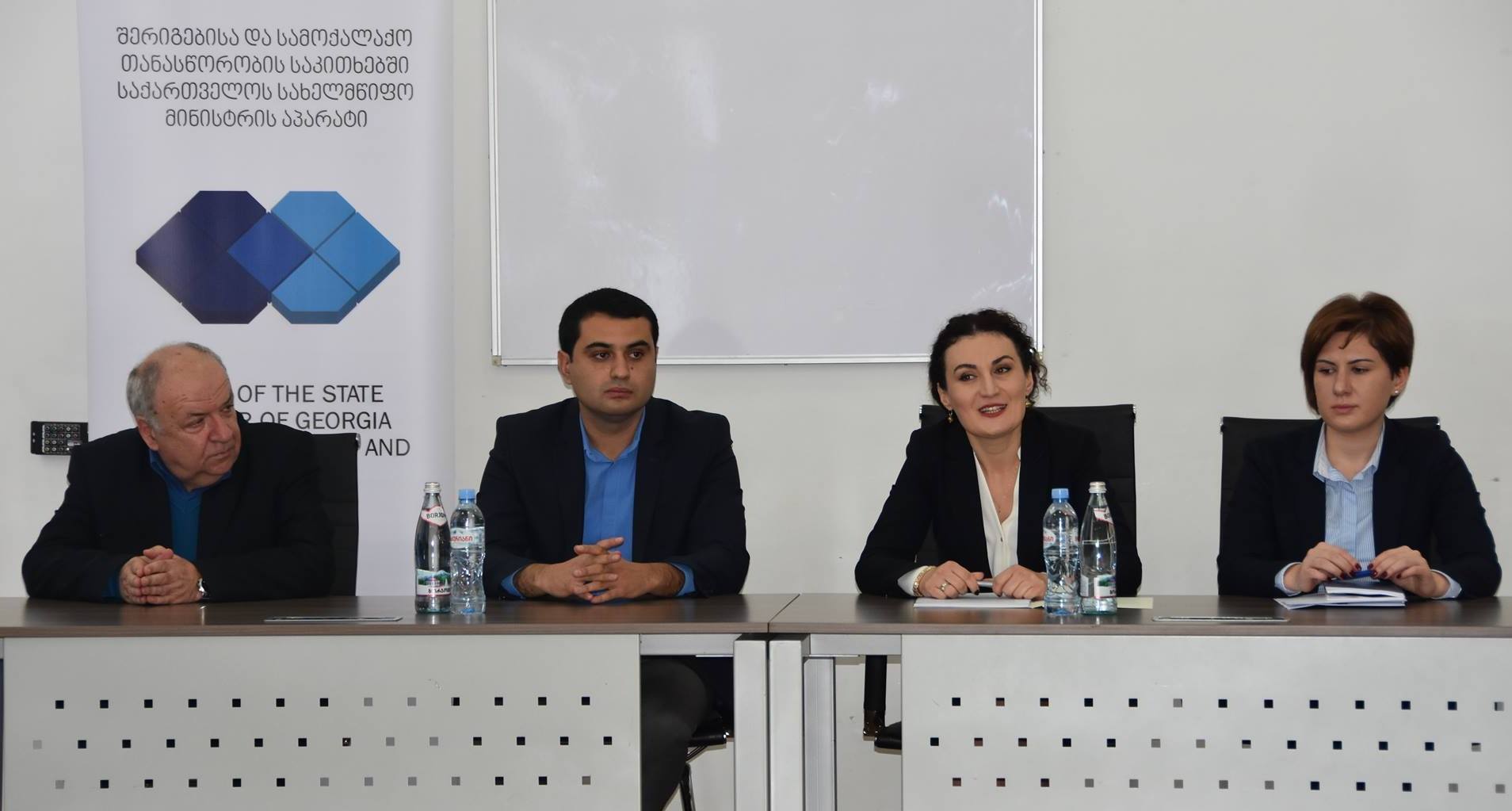 On the occasion of the International Day for Tolerance, the State Minister for Reconciliation and Civic Equality Mrs. Ketevan Tsikhelashvili has met with the students, delivering a public lecture on "Civic Equality – Basic Directions of State Policy" at Ivane Javakhishvili Tbilisi State University.
State Minister discussed key areas of the State Strategy for Civic Equality and Integration and the Action Plan, noting, that the goal of the strategy is to support fully-fledged engagement and integration of ethnic minority representatives in all spheres of lives.
"Tolerance is a base of our society, our country is diverse, multi-cultural and this is our wealth, enshrined into policy. It is my pleasure to meet with the students. Some of you are participants of "1+4" Programme, and you have a possibility to reach out to desirable profession through learning the state language," – Mrs. Ketevan Tsikhelashvili declared.
State Minister responded to the questions of the students.
The following events are planned in frames of the week dedicated to the International Day for Tolerance:
16 November - official reception, in the honor of the International Day for Tolerance, inviting representatives of legislative and executive chambers of Georgia, diplomatic corps, international and non-governmental organizations. Video clips on Association Agreement and international education programs will run with applicable English edition; the videos are also translated in Abkhazian, Ossetian, Azerbaijani and Armenian languages. They will be uploaded on SMRCE Facebook page as well.
18 November – meeting with students in Akhalkalaki, Samtkshe-Javakheti State University. A lecture on "Civic Integration and Tolerance in Georgia" by Levan Lortkipanidze, expert.
20 November – week round-up through multiethnic festival "Under One Sky," to be held in Batumi. The festival will gather approximately 90 pupils from western Georgia music schools (Kutaisi, Samtredia, Ozurgeti, Zugdidi, Batumi) and apprentices of socially vulnerable residential home in Ozurgeti. The concert marks its 13th anniversary in frames of the festival. On this occasion, the festival presents classical music live show.
A photo-competition "Diversity of our County" was a part of the week, as well. Board of Jury has announced winners today. Authors of best photos will be invited at the official reception of the International Day for Tolerance and granted with GEL 500 gift vouchers with financial support of USAID and UN Association in Georgia, in frames of the "Tolerance, Civic Awareness and Integration Program." Winning photos will also be displayed on exhibition and compose 2017 desk calendars.