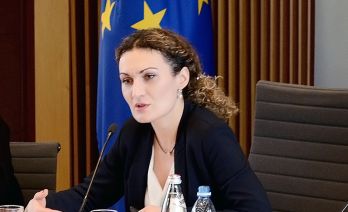 The State Minister for Reconciliation and Civic Equality Mrs. Ketevan Tsikhelashvili has visited Germany. Mrs. Tsikhelashvili participates at Berlin Foreign Policy Forum.
The German Federal Foreign Minister Mr. Frank Walter-Steinmeier opened the forum. Approximately 200 politicians, government representatives, experts and journalists convened at the forum. This year, the key topics of the annual forum included the foreign policy of Germany and Europe, relations of Russia and European Union, internal situation in Russia, post-electoral foreign policy of the United States, regional security challenges.
In frames of the visit, Mrs. Ketevan Tsikhelashvili holds bilateral meetings. The State Minister already met with the Head of Department for Eastern and South Eastern Europe Mr. Walter Kaufmann. Meetings are also scheduled with the Head of OSCE HQ of the German Federal Foreign Office Mr. Antje Leenderts, Mr. Joakhim Berteles, the Head of Department for Foreign, Security Policy and Global Issues, Chancellery of the German Federal Republic.