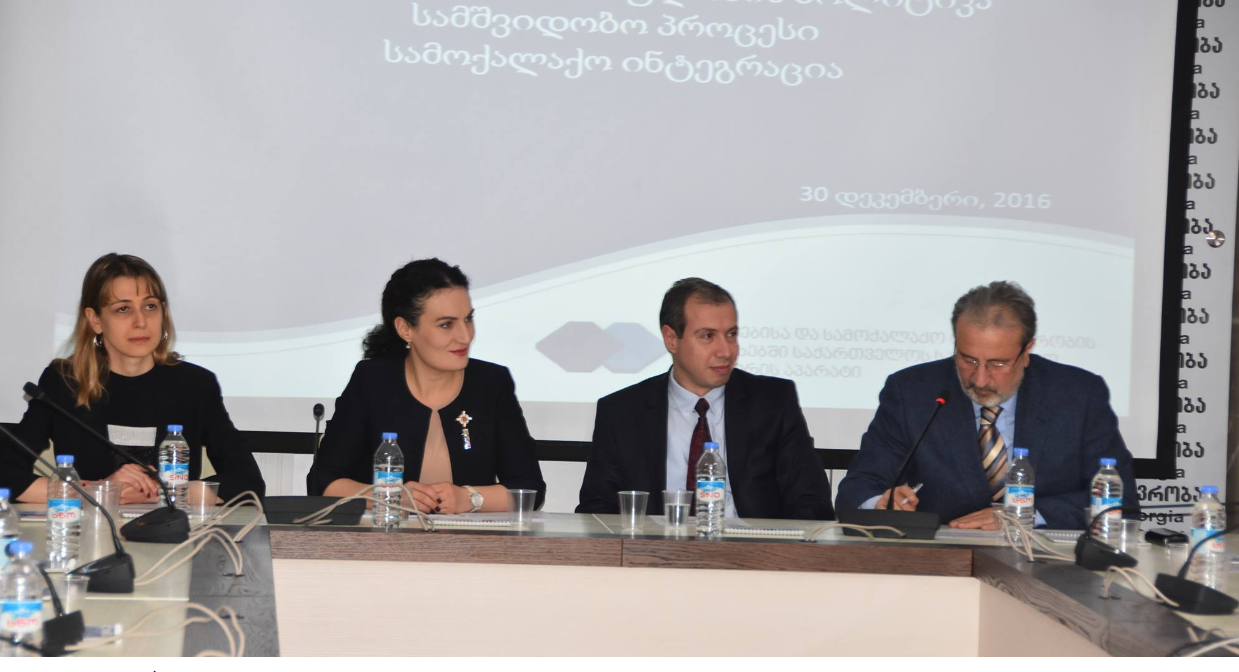 The State Minister for Reconciliation and Civic Equality Mrs. Ketevan Tsikhelashvili summed up 2016 work.
She provided the representatives of media and the Eastern Partnership Civil Society Forum's Georgian National Platform with the information about the reconciliation and engagement policy, peace process and integration.
"We are continuing our peace policy. Our government has a plan in order to make more dynamic steps in the peace process, to provide more close relations between remote communities. Our supreme task is to unite out country. In order to achieve this goal, first and foremost we need to unite our people and at the same time build the European State. Our future is in the European Georgia. We are taking steps in order to provide our citizens in Abkhazia and the Tskhinvali region with the benefits that the rest of the citizens of Georgia have from the cooperation with European Union", - said Tsikhelashvili.
She also spoke about the steps that Georgian Government made responding to the needs of people who live near the occupation line.
"We made lots of steps in order to help the population. Of course, we still have lots of things to do. But, for example, the fact that this year all the villages have been provided with gas, is an important benefit for families. Also, in 2016-2017 academic year the Government will continue to fund the studies of students from these villages. We should say, that the number of these students reached 800. Also we are solving the problem of irrigation and drinking water, which is really vital for these villages", - said the State Minister.
As for the civil integration and the civil equality, Tsikhelashvili drew the attention on the steps that have been taken within the framework of the new integration strategy.
"A lot of innovations have been implemented. Especially in case of the getting a quality education in native language. The Government's priority was (and remains) the creation of adequate conditions for native language studies. The leitmotif of our policy is to protect the right and identity of each person", - emphasized Tsikhelashvili.
She also talked about the cooperation with the civil society.
"The role of civil society in the areas, which are in charge of the State Minister Office, is extremely important. I'm glad to present this report not only to media, but also to the representatives of the Eastern Partnership Civil Society Forum's Georgian National Platform. We are ready to adopt recommendations and to continue close cooperation", - said the State Minister.